Welcome to Simply Food by Maura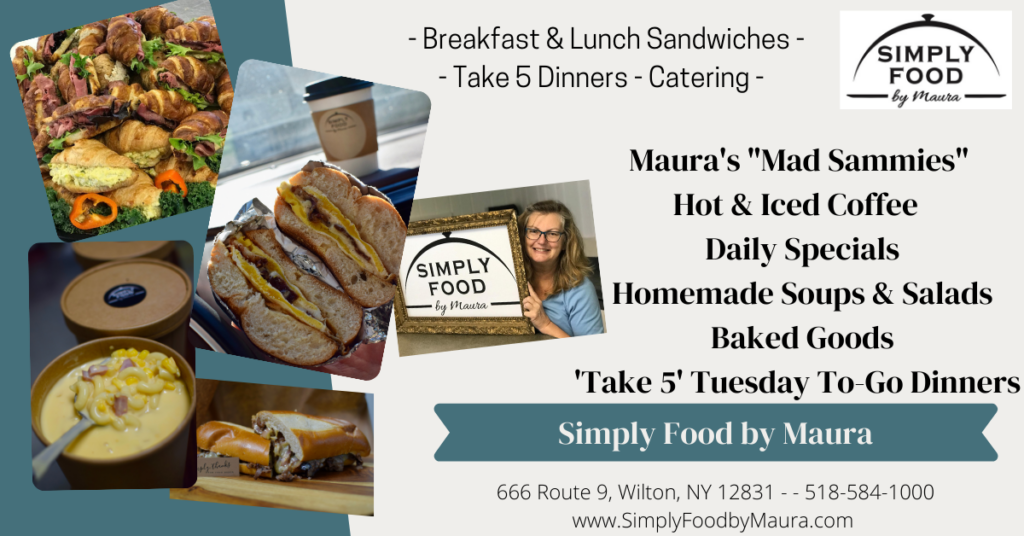 Hours of Operation
WED-SUN 7am-2pm
Monday & Tuesday- CLOSED – (open for Take 5 Pick Up 4pm-6:30pm)
Order Breakfast and Lunch online!
Pre-order your "Take 5 Dinners" by 8pm on Sunday
Hosting a gathering? We love catering! Give us a call!
Sign up for the Simply Food Email List for Special Events, Offers & Announcements
In the News in the Saratogian (11.15.20)
On TV on Channel 10 (11.28.20)
Simply Excited
Change is good…
I'm loving my new place/ space/ home and my new kitchen. A shout-out to all the kind and welcoming drive-by, pop ins and hellos from my new neighbors. I'm looking forward to seeing ( and feeding!) y'all soon.
As the holidays approach I am again reminded of this change in families and gatherings. New traditions in a year that will be forever remembered (no matter how much we try to forget.) While much has changed over these recent months, I still feel very fortunate to continue doing what I love, simply providing everyday comfort food.
We have been busy making our new home cozy, comfortable and convenient. From ease of ordering, parking and pick-up, we hope to simplify your day. May you embrace the changes too!
Join me on this new Journey!
Come see me soon for some of your favorites and some new Mad Sammies!! They'll be simply yummy!