Welcome to Simply Food by Maura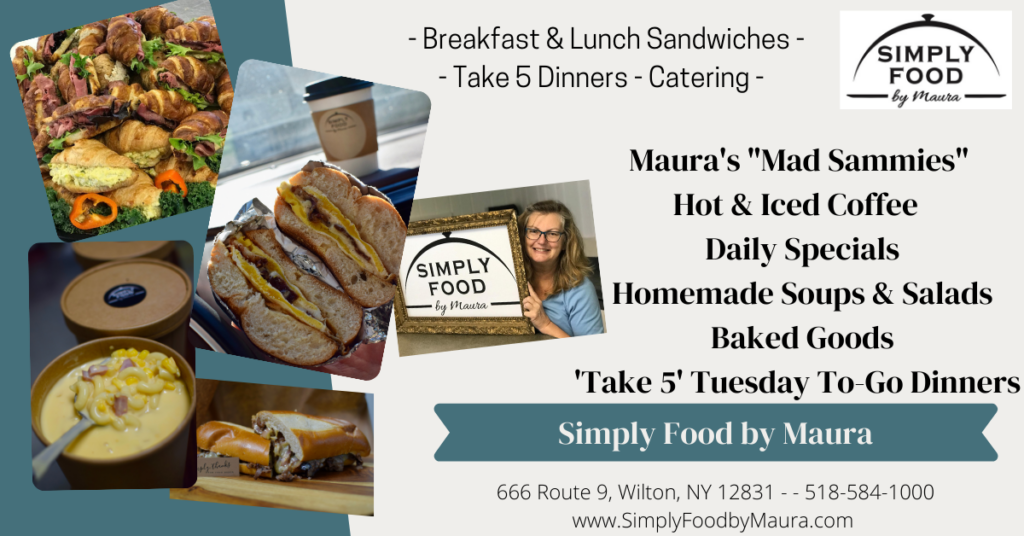 Hours of Operation
WED-SUN 7am-2pm
Monday & Tuesday- CLOSED – (open for Take 5 Pick Up 4pm-6:30pm)
*We have been short staffed and working on an exciting number of catering gigs, so we apologize for any inconvenience of our new closures. Please check our Facebook or Instagram page updates for current hours.
---
Order Breakfast and Lunch online!
Pre-order your "Take 5 Dinners" by 8pm on Sunday
Hosting a gathering? We love catering!
Fill out our form and we'll get back to you as soon as possible
or give us a call at 971-808-2661 to speak to our Catering Coordinator!
Sign up for the Simply Food Email List for Special Events, Offers & Announcements
---
Maura's Interview with Saratoga Today (Nov. 5, 2021)
Simply Food by Maura On TV on CBS6 (Sept. 26, 21)
---
A note from Maura:
Made it through our first Simply Summer! October 2021
We're coming up on 10 months since I opened Simply Food by Maura! I have felt so incredibly welcomed into my new neighborhood. As the summer draws to a close, I want to thank all our old regulars who made it to our new location for their Points Classic breakfast sandwiches, for all our new customers who have let us feed your families Mad Sammies, Take 5 Dinners, and cater your events and my staff for jumping right in and picking up where we left off.
We're still waiting for life to return fully back to normal, but we'll be there to cater your next get-together, whenever you're ready for us!
I love getting to be creative as we explore the fun ideas you bring for your events! I am simply thrilled to have found another wonderful community to be a part of. Thank you for supporting Simply Food by Maura and for supporting local business!
Keep your eyes peeled for our upcoming holiday pre-order updates, homemade soup specials, and early bird breakfast deal!