Simply Food & Saratoga-Wilton Elks Catering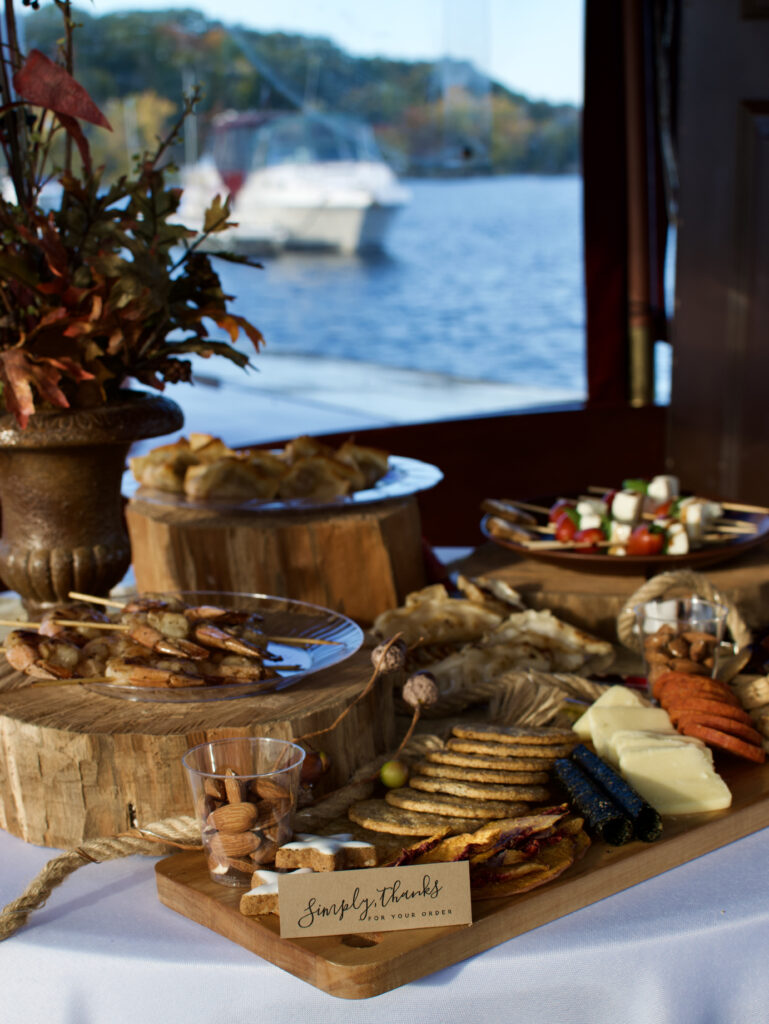 Simply Food by Maura has a wide array of party platters and unique options for ALL your Saratoga Catering needs!
We pride ourselves on our great flavors, bold designs, and specially curated presentations. Does your event have a theme? Let us know! Maura will work with you to create a simply memorable array that your guests will love!
Let's discuss your party ideas!
***Please note Maura and Amelia are out of town for a family wedding! We will be out of town through Aug. 9. All preexisting Catering Orders are being honored, but there may be a delay in response for new orders placed between Aug. 2-Aug. 9. We appreciate your understanding!**
Simply Food for any Saratoga event
Gourmet Boxed Lunches or Breakfast Sandwiches for your Office
Tasty Homemade Dinners for your favorite Team
Intimate Dinners on the Lake with Adirondack Cruise & Charter Co.
Boxed Lunches for the Saratoga Corinth & Hudson Railway
Charcuterie Platters for Happy Hour Gatherings
Backyard Party & Brunch Fare
Track Morning Workout Breakfast
High School Sports Team Meets
To-Go Dinners at the Senior Center
Wedding & Baby Showers
Homemade Holiday Pies & Cookies
---
Are you planning an event at the Saratoga Wilton Elks Lodge #161?

You've come to the right place! Simply Food by Maura is now the Event Caterer for all weddings, showers, parties, memorials, and more at the Lodge.
Renting the Saratoga Wilton Elks Lodge means Simply Food by Maura will not only cater your event, but help plan it with you. We'll help you tailor a package to suit your tastes (both figurative and literal!) so that you can sit back and enjoy your event.
Please contact our Catering Coordinator, Amelia, for any Saratoga Wilton Elks Lodge Rental/Catering Inquiries. We've got menus for Weddings, Banquets, Parties, Showers, Memorials, and more.

Send us a Catering Inquiry
Call or Text: 971-808-2661
Email: SimplyFoodByMaura@gmail.com
Please look at our photos below and on Facebook or Instagram to see examples of our menu, spreads, and displays!
---
Swipe through for a taste of a Simply Food by Maura event!
---
STANDARD A LA CARTE CATERING MENU
All single amounts are priced by the dozen, unless otherwise specified.
Appetizers
Antipasto Skewers – $22.00
Caprese Skewers – $12.00
Veggie Shots – $18.00
Veggie Platter 12" – $34.00
Veggie Platter 16" – $54.00
Fruit Skewers – $18.00
Fruit Platter 12" – $34.00
Fruit Platter 16"- $54.00
Sausage Flower Wontons – $18.00
Potstickers – $18.00
Marinated Skewers – $30.00
Small Candied Bacon Skewers – $14.00
Large Candied Bacon Skewers – $24.00
Assorted Flatbreads – $11.00/each
Charcuterie Board – $6.00/Person
Hearty Bites
Mini Croissant Sandwiches – 12 ct. / 50 ct. $26.00 / $86.00

Choose up to 3 Fillings

Roasted Red Cream Cheese with Cucumber
Turkey Salad
Curry Chicken Salad
Roast Beef with Horseradish Mayo

Mini Bagel Sandwiches – 12 ct. / 50 ct. $33.00 / $98.00
Mini Quiche – 15.00
Individual 4″ Quiche – $48.00

Bacon, Scallion, & Cheddar
Veggie & Swiss

Buffalo Chicken Dip – $10.00/lb.
Coleslaw – price upon request
Macaroni Salad – $5.00/lb.
Potato Salad – $6.00/lb.
Small Sub Platter (17 pieces) – $40.00
Large Sub Platter (30 pieces) – $68.00
Pinwheels – 50 ct. / 100 ct. – $40.00 / $74.00

Chicken Taco
Ham & Spicy Mustard
"Avocado Toast" – cream cheese, avocado mash & everything bagel seasong
Veggie – cream cheese, parmesan cheese, spinach, garlic, basil, & sun-dried tomatoes
Hot 1/2 Trays (serve 8-10)
Mac 'n Cheese –$30.00
Mac 'n Cheese with Meat – $40.00
Pulled Pork – $44.00
Lasagna Tray with Hot & Sweet Sausage – $48.00
Meatballs – $40.00
Chicken Piccata – $44.00
Sausage & Peppers – $44.00
Baked Ziti – $30.00
Scalloped Potatoes Tray – $46.00
Roasted Veggies – $22.00

Green Beans
Carrots
Brussel Sprouts
Broccoli
Salad Bowls (serve 8-12)
Broccoli Cauliflower Slaw – $29.00
Citrus Quinoa Salad – $29.00

Quinoa over spring mix with chopped pistachios, feta cheese, Mandarin oranges & a citrus vinaigrette

Tossed & Chopped – $26.00
Italian Pasta – $29.00
Caesar Salad w/ Chicken – $32.00
Caesar Salad w/o Chicken – $26.00
Signature Salad – $29.00

Spring Mix with feta, dried cranberries, apples, walnuts & an apple balsamic

*All Available as Individual Servings – $2.00/Each
Hearty Bars with a variety of toppings
Mac 'n Cheese Bar – $10.00/Person
Chili Bar – $10.00/Person
Taco Bar – $10.00/Person

*All Available with Deluxe Toppings – $2.00/Person Extra
Sweets
Mini Cupcakes – $12.00/Dozen
Strawberry Shortcake Skewers – $12.00/Dozen
Mini Chocolate Chip Cookie Platter – $12.00/Dozen
Assorted Dessert Platter- $24.00
Fruit Displays start at $45.00

Watermelon Cake
Watermelon Baby
Breakfast / Brunch
Tray of Scrambled Eggs – $26.00
Tray of Pancakes – $26.00
Tray of Home Fries – $26.00
Tray of Bacon or Sausage – $30.00
Breakfast Casserole – $30.00

Bacon, Cheddar, Scallion
Veggie & Swiss

Breakfast Sliders w/ Meat – $4.25/Each
Breakfast Sliders w/o Meat – $3.50/Each
Breakfast Burrito Flowers – $18.00

Egg, Cheddar, Roasted Red Pepper, & Onion in a Wonton

Table of Breakfast Sweets – $5.00/person

Includes mini bagels, mini muffins, mini donuts, mini croissants, butter and 2 types of cream cheese

Box of Joe (96 oz.) – $16.00
Event Costs – Extras that make your event Simply special!
Napkin Rentals – $10.00/Dozen
High Top Table Rentals – $15.00/Each
Tablecloth Rentals – $12.00/Each
Reusable Chafing Dish Rentals – $10.00

must be returned to Simply Food by Maura

Disposable Chafing Dish Rental – $15.00
Delivery starts at $10.00

(extra charge beyond 5 mile radius)

Extra Theming/Décor Design – Basic / Deluxe $25.00 / $50.00
Page updated June 2022